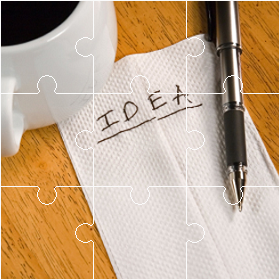 Without a Plan Your Business Idea Is Just a Drawing on a Napkin
Going from a napkin to a written business plan is a big step for most aspiring entrepreneurs, but it's necessary if you're serious about your business success.
Excited?
Passion is the fuel needed to move your idea forward. The road to success is never easy. Obstacles and detours are part of the drive.
Open?
Mapping out the details takes a willingness to explore all possible routes. If you won't consider possibilities, don't start the trip.
Ready?
You don't have to know everything. You do need to be prepared to drive the miles, share your experiences and ask for directions.
Small Business Success
Got You Puzzled?
Free Solutions Checklist
No Spam Policy Enforced